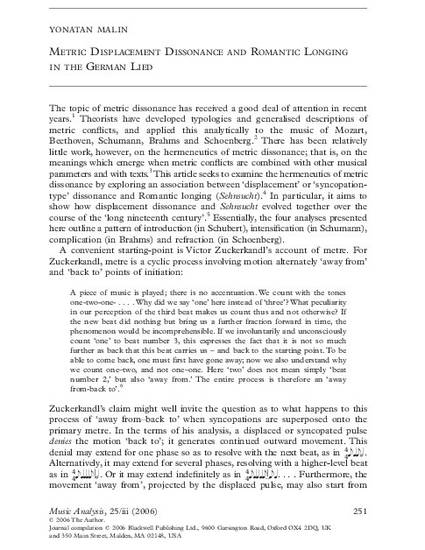 Article
Metric Displacement Dissonance and Romantic Longing in the German Lied
Music Analysis (2006)
Abstract
This article seeks to explore the hermeneutics of metric dissonance by examining the association between displacement or syncopation-type conflicts and Romantic longing (Sehnsucht) in the German Lied. It includes close readings of music-text relations in four specific songs: The 'Wandrers Nachtlied II' (Goethe/Schubert); 'Intermezzo' (Eichendorff/Schumann); 'Immer leiser wird mein Schlummer' (Lingg/Brahms); and 'Unterm Schutz' (Geroge/Schoenberg). The primary methodology for the process of metric analysis derives from the work of Harald Krebs. The article as a whole traces changes both in the use of displacement dissonance, and in the nature of Sehnsucht, as well as correlations between the two over the course of the 'long nineteenth century'. The four analyses as a group outline an historical progression of 'introduction' (in Schubert), 'intensification' (in Schumann), 'complication' (in Brahms) and 'refraction' (in Schoenberg). The study thereby combines a history of metric dissonance - one of the recurring elements of nineteenth-century style - with that of Sehnsucht - one of the most prominent features of Romantic consciousness.
Keywords
Meter,
Rhythm,
Metric Dissonance,
Lied,
Romanticism
Citation Information
Yonatan Malin. "Metric Displacement Dissonance and Romantic Longing in the German Lied"
Music Analysis
Vol. 25 Iss. 3 (2006)
Available at: http://works.bepress.com/ymalin/2/