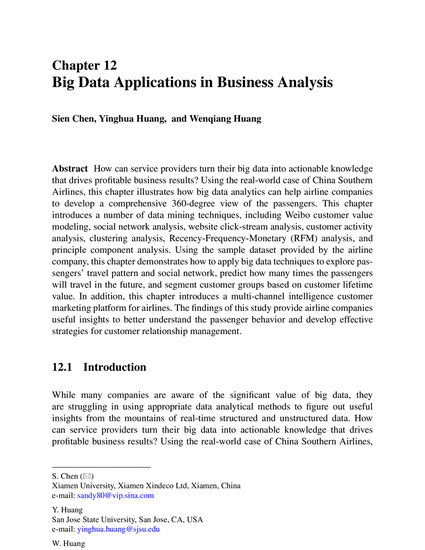 Contribution to Book
Big Data Applications in Business Analysis
Big Data Concepts, Theories, and Applications (2016)
Abstract
How can service providers turn their big data into actionable knowledge that drives profitable business results? Using the real-world case of China Southern Airlines, this chapter illustrates how big data analytics can help airline companies to develop a comprehensive 360-degree view of the passengers. This chapter introduces a number of data mining techniques, including Weibo customer value modeling, social network analysis, website click-stream analysis, customer activity analysis, clustering analysis, Recency-Frequency-Monetary (RFM) analysis, and principle component analysis. Using the sample dataset provided by the airline company, this chapter demonstrates how to apply big data techniques to explore passengers' travel pattern and social network, predict how many times the passengers will travel in the future, and segment customer groups based on customer lifetime value. In addition, this chapter introduces a multi-channel intelligence customer marketing platform for airlines. The findings of this study provide airline companies useful insights to better understand the passenger behavior and develop effective strategies for customer relationship management.
DOI
10.1007/978-3-319-27763-9_12
Citation Information
Sien Chen, Yinghua Huang and Wenqiang Huang. "Big Data Applications in Business Analysis"
Big Data Concepts, Theories, and Applications
(2016) p. 413 - 437
Available at: http://works.bepress.com/yinghua-huang/46/