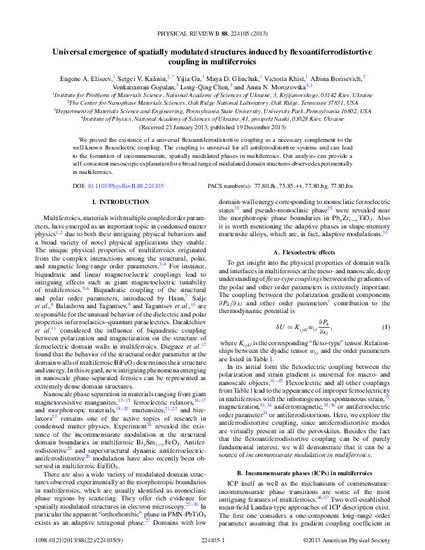 Article
Universal Emergence of Spatially Modulated Structures Induced by Flexoantiferrodistortive Coupling in Multiferroics
Physical Review B - Condensed Matter and Materials Physics
Abstract
We proved the existence of a universal flexoantiferrodistortive coupling as a necessary complement to the well-known flexoelectric coupling. The coupling is universal for all antiferrodistortive systems and can lead to the formation of incommensurate, spatially modulated phases in multiferroics. Our analysis can provide a self-consistent mesoscopic explanation for a broad range of modulated domain structures observed experimentally in multiferroics.
Department(s)
Materials Science and Engineering
Keywords and Phrases
Europium,
Phase transitions,
Antiferromagnetism
Document Type
Article - Journal
Document Version
Final Version
Rights
© 2013 American Physical Society (APS), All rights reserved.
Publication Date
1-1-2013
Citation Information
Eugene A. Eliseev, Sergei V. Kalinin, Yijia Gu, Maya D. Glinchuk, et al.. "Universal Emergence of Spatially Modulated Structures Induced by Flexoantiferrodistortive Coupling in Multiferroics"
Physical Review B - Condensed Matter and Materials Physics
Vol. 88 Iss. 22 (2013) ISSN: 1098-0121; 1550-235X
Available at: http://works.bepress.com/yijia-gu/67/