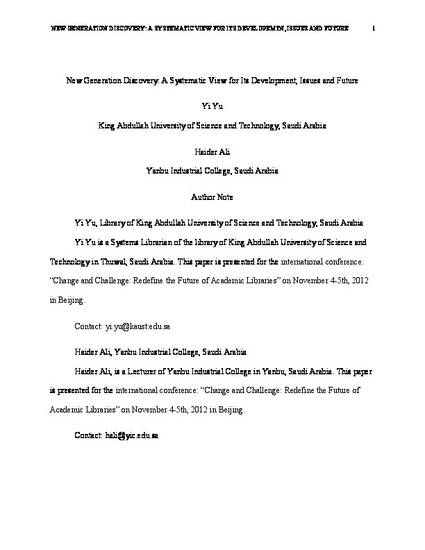 Article
New Generation Discovery: A Systematic View for Its Development, Issues and Future
This paper is presented for the international conference: "Change and Challenge: Redefine the Future of Academic Libraries" on November 4-5th, 2012 in Beijing. (2012)
Abstract
Collecting, storing, discovering, and locating are integral parts of the composition of the library. To fully utilize the library and achieve its ultimate value, the construction and production of discovery has always been a central part of the library's practice and identity. That is the reason why the new-generation (also called the next-generation discovery) discovery gets such striking effect since it came into library automation arena. However, when we talk about the new-generation of discovery in the library domain, we should see it in the entirety of the library as one of its organic parts and consider its progress along with the evolution of the whole library world. We should have a deeper understanding about its relationship and interaction with the internet, the rapidly changing digital environment, and the elements and the chain of library services. To address above issues, this paper overviews the different versions of the definition for the new generation discovery by combining our own understanding. The paper also gives our own description for its properties and characteristics. The paper points out what challenges, which extends the technology domain to commercial interests and business strategy, are faced by the discovery applications, and how library and library professionals deal with those challenges. Finally, the paper elaborates on the promise brought by the new discovery development and what the next exploration might be for its future.
Keywords
discovery,
new-generation discovery,
the next-generation discovery,
discovery tools,
discovery interface,
discovery services,
discovery environment,
resource discovery,
federated searching,
web-scale discovery,
OpenURL.
Publication Date
November, 2012
Citation Information
Yi Yu and Haider Ali. "New Generation Discovery: A Systematic View for Its Development, Issues and Future"
This paper is presented for the international conference: "Change and Challenge: Redefine the Future of Academic Libraries" on November 4-5th, 2012 in Beijing.
(2012)
Available at: http://works.bepress.com/yi_yu/1/