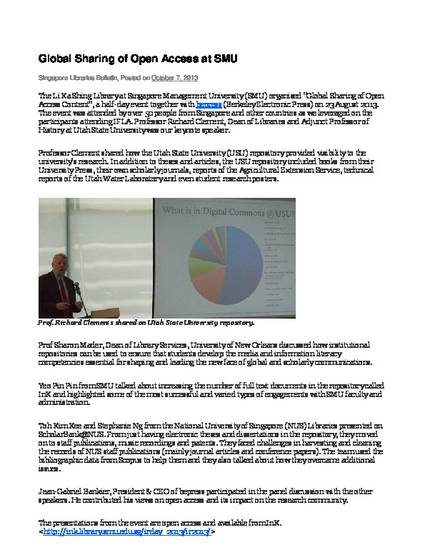 Article
Global Sharing of Open Access at SMU
Singapore Libraries Bulletin
Publication Type
News Article
Abstract
The Li Ka Shing Library at Singapore Management University (SMU) organised "Global Sharing of Open Access Content", a half-day event together with bepress (Berkeley Electronic Press) on 23 August 2013.
Keywords
open access,
institutional repositories,
NUS,
SMU
Publisher
Library Association of Singapore
City or Country
Singapore
Copyright Owner and License
Yeo Pin Pin
Creative Commons License
Creative Commons Attribution-Noncommercial 3.0
Citation Information
Yeo, Pin Pin. 2013. Global Sharing of Open Access at SMU.
Singapore Libraries Bulletin
(Oct 7). URL: http://www.las.org.sg/wp/sjlim/2013/10/global-sharing-of-open-access-at-smu/