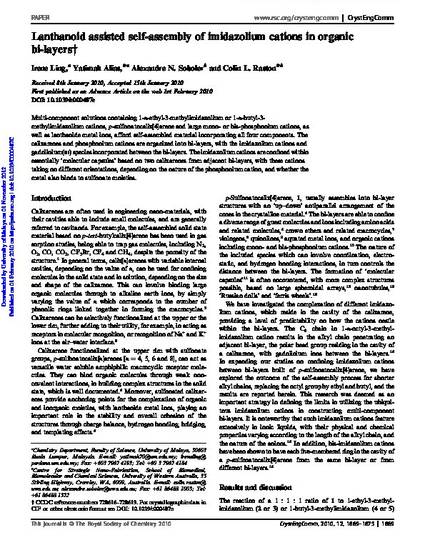 Article
Lanthanoid assisted self-assembly of imidazolium cations in organic bi-layers
Crystengcomm (2010)
Abstract
Multi-component solutions containing 1-n-ethyl-3-methylimidazolium or 1-n-butyl-3-methylimidazolium cations, p-sulfonatocalix[4]arene and large mono-or bis-phosphonium cations, as well as lanthanide metal ions, afford self-assembled material incorporating all four components. The calixarenes and phosphonium cations are organized into bi-layers, with the imidazolium cations and gadolinium(III) species incorporated between the bi-layers. The imidazolium cations are confined within essentially 'molecular capsules' based on two calixarenes from adjacent bi-layers, with these cations taking on different orientations, depending on the nature of the phosphonium cation, and whether the metal also binds to sulfonate moieties.
Keywords
mimicking viral geometry molecular capsule complexes metal water ions recognition confinement calixarenes binding
Citation Information
Yatimah Alias. "Lanthanoid assisted self-assembly of imidazolium cations in organic bi-layers"
Crystengcomm
(2010)
Available at: http://works.bepress.com/yatimahalias/4/