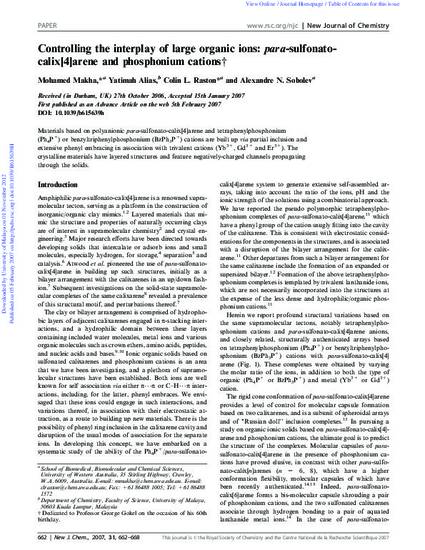 Article
Controlling the interplay of large organic ions: para-sulfonato-calix 4 arene and phosphonium cations
New Journal of Chemistry (2007)
Abstract
Materials based on polyanionic para-sulfonato-calix[ 4] arene and tetraphenylphosphonium (Ph4P+) or benzyltriphenylphosphonium (BzPh(3)P(+)) cations are built up via partial inclusion and extensive phenyl embracing in association with trivalent cations (Yb3+, Gd3+ and Er3+). The crystalline materials have layered structures and feature negatively-charged channels propagating through the solids.
Keywords
hydrogen storage sulfonated calixarenes coordination polymers clay mimics amino-acids water tetraphenylphosphonium complexes bilayers capsules
Citation Information
Yatimah Alias. "Controlling the interplay of large organic ions: para-sulfonato-calix 4 arene and phosphonium cations"
New Journal of Chemistry
(2007)
Available at: http://works.bepress.com/yatimahalias/2/