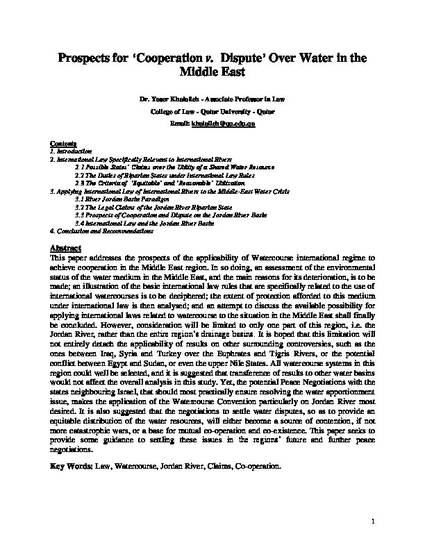 Unpublished Paper
Prospects for 'Cooperation v. Dispute' Over Water in the Middle East
ExpressO (2011)
Abstract
This paper addresses the prospects of the applicability of Watercourse international regime to achieve cooperation in the Middle East region. In so doing, an assessment of the environmental status of the water medium in the Middle East, and the main reasons for its deterioration, is to be made; an illustration of the basic international law rules that are specifically related to the use of international watercourses is to be deciphered; the extent of protection afforded to this medium under international law is then analysed; and an attempt to discuss the available possibility for applying international laws related to watercourse to the situation in the Middle East shall finally be concluded. However, consideration will be limited to only one part of this region, i.e. the Jordan River, rather than the entire region's drainage basins. It is hoped that this limitation will not entirely detach the applicability of results on other surrounding controversies, such as the ones between Iraq, Syria and Turkey over the Euphrates and Tigris Rivers, or the potential conflict between Egypt and Sudan, or even the upper Nile States. All watercourse systems in this region could well be selected, and it is suggested that transference of results to other water basins would not affect the overall analysis in this study. Yet, the potential Peace Negotiations with the states neighbouring Israel, that should most practically ensure resolving the water apportionment issue, makes the application of the Watercourse Convention particularly on Jordan River most desired. It is also suggested that the negotiations to settle water disputes, so as to provide an equitable distribution of the water resources, will either become a source of contention, if not more catastrophic wars, or a base for mutual co-operation and co-existence. This paper seeks to provide some guidance to settling these issues in the regions' future and further peace negotiations.
Keywords
Law,
Watercourse,
Jordan River,
Claims,
Co-operation.
Publication Date
October 23, 2011
Citation Information
yaser yousef khalaileh. "Prospects for 'Cooperation v. Dispute' Over Water in the Middle East"
ExpressO
(2011)
Available at: http://works.bepress.com/yaser_khalaileh/1/