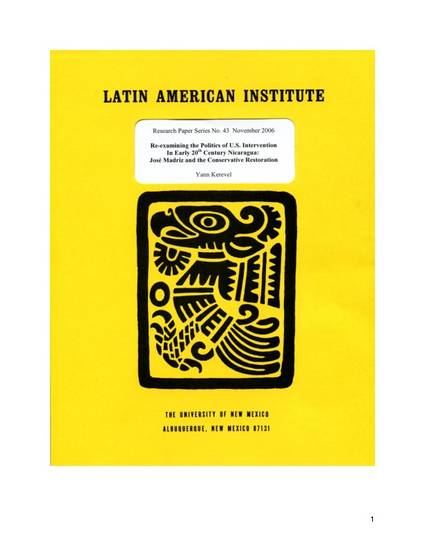 Article
Re-examining the Politics of U.S. Intervention in Early 20th Century Nicaragua: José Madriz and the Conservative Restoration
LAII Research Paper Series (2006)
Abstract
This research re-examines the U.S. intervention in Nicaragua in 1909-10. Most literature of this period argues that the United States forced the dictator Zelaya out of office in 1909; however, I contend that the argument that U.S. intervention caused the fall of Zelaya does not clearly match up to the historical record. Instead, I argue it is much more compelling to examine U.S. policy toward José Madriz to understand the impact of the intervention. It is clear that U.S. policy was the decisive factor in the fall of Madriz, while it is less convincing in the case of Zelaya.
Citation Information
Yann P. Kerevel. "Re-examining the Politics of U.S. Intervention in Early 20th Century Nicaragua: José Madriz and the Conservative Restoration"
LAII Research Paper Series
Iss. 43 (2006)
Available at: http://works.bepress.com/yann_kerevel/3/