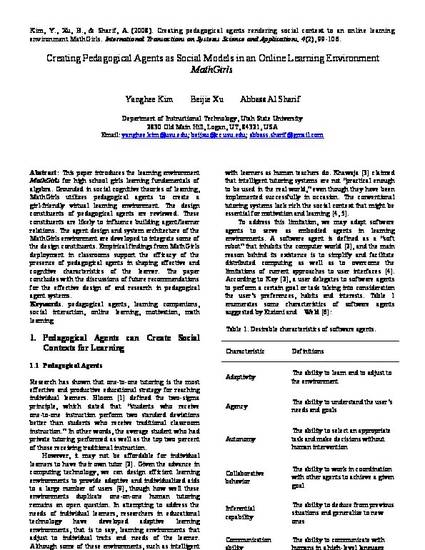 Article
Creating pedagogical agents as social models in an online learning environment MathGirls
International Transactions on Systems Science and Applications (2008)
Abstract
This paper introduces the learning environment MathGirls for high school girls learning fundamentals of algebra. Grounded in social cognitive theories of learning, MathGirls utilizes pedagogical agents to create a girl-friendly virtual learning environment. The design constituents of pedagogical agents are reviewed. These constituents are likely to influence building agent/learner relations. The agent design and system architecture of the MathGirls environment are developed to integrate some of the design constituents. Empirical findings from MathGirls deployment in classrooms support the efficacy of the presence of pedagogical agents in shaping affective and cognitive characteristics of the learner. The paper concludes with the discussions of future recommendations for the effective design of and research in pedagogical agent systems.
Keywords
embodied conversational agents,
virtual peers,
pedagogical agents,
learning companions,
social interaction,
online learning,
motivation,
math learning
Publication Date
January 1, 2008
Citation Information
Kim, Y., Xu, B., & Sharif, A. (2008). Pedagogical agents as social models in an online learning environment MathGirls. International Transactions on Systems Science and Applications, 4(2), 99-106.