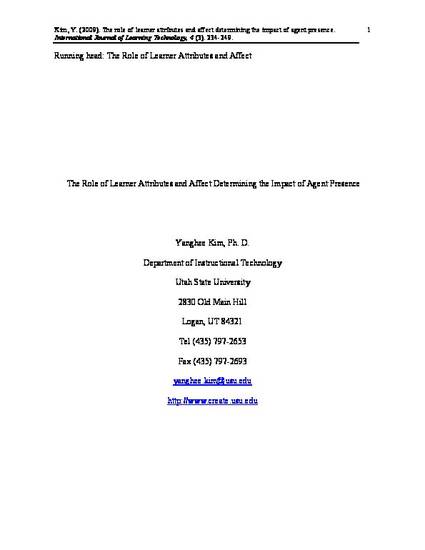 Article
The role of learner attributes and affect determining the impact of agent presence
International Journal of Learning Technology (2009)
Abstract
This paper introduces two experimental studies that examined the potential of animated virtual peers (VP) to build social relations with learners in online learning environments. VP emotions and learner characteristics were foci of interest. Study I investigated the impact of VP emotional expressions (positive vs. negative vs. neutral) and gender and learner gender on college students' perceptions of agent persona, motivation, and learning. Study II investigated the interaction effects of VP presence and learner gender and learner sociability on high-school students' task-related attitudes, self-efficacy beliefs, and learning. Overall, the results revealed the interaction effects of VP/learner attributes on the learners' affective and cognitive outcomes. This finding implies that the learners might perceive the virtual peers socially and that the application of a virtual peer can be a viable solution to create socially affable learning environments.
Keywords
learning technology,
pedagogical agents,
pedagogical agents,
social relations,
social cognition,
embodied conversational agents,
virtual peers,
virtual tutors,
learner affect,
agent presence,
individual difference,
agent-based mathematics learning,
mathematics attitudes,
mathematics self-efficacy,
student affect
Publication Date
January 1, 2009
Citation Information
Kim, Y. (2009). Building social relations with digital virtual peers in web-based learning. International Journal of Learning Technology, 4 (3). 234-249.