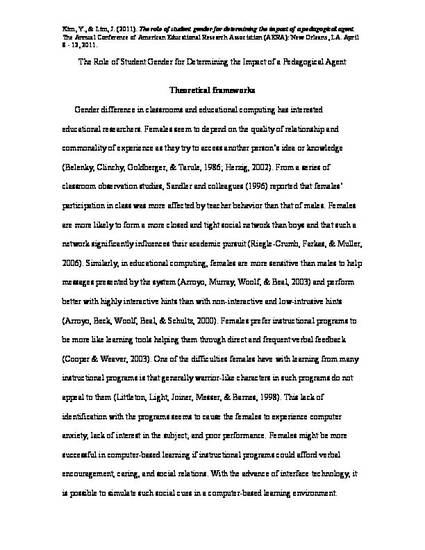 Presentation
The role of student gender for determining the impact of a pedagogical agent
The Annual Conference of American Educational Research Association (AERA) (2011)
Abstract
This study was to understand how male and female teenage students reacted differently to the presence of a pedagogical agent (an animated human-like character) in a computer-based algebra-learning environment. The study first examined, in classroom experiments, if learner gender would be a determining factor for the effectiveness of a pedagogical agent on learner attitudes and learning. Next, in-depth interviews inquired into the two groups of students' perspectives of their agent's role for their learning and affect.
Keywords
student gender,
embodied conversational agents,
virtual peers,
pedagogical agents,
learning companions,
social interaction,
learner affect,
motivation,
math learning,
learner affect,
social cognition
Publication Date
April 8, 2011
Citation Information
Kim, Y., & Lim, J. (2011). The role of student gender for determining the impact of a pedagogical agent. The Annual Conference of American Educational Research Association (AERA): New Orleans, LA. April 8 - 12, 2011.