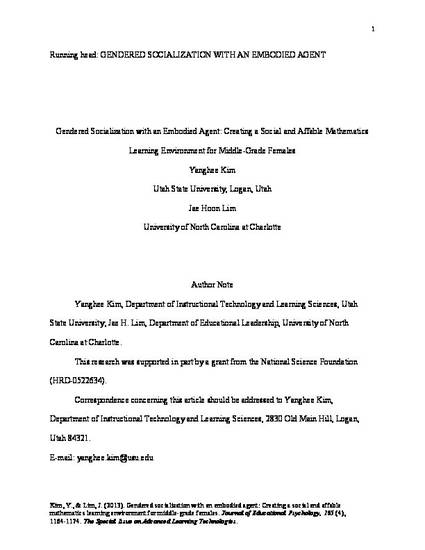 Article
Gendered socialization with an embodied agent: Creating a social and affable mathematics learning environment for middle-grade females
Journal of Educational Psychology, Special Issue on Advanced Learning Technology (2013)
Abstract
This study examined whether or not embodied-agent-based learning would help middle-grade females have more positive mathematics learning experiences. The study used an explanatory mixed-methods research design. First, a classroom-based experiment was conducted with one hundred and twenty 9th-graders learning introductory algebra (53% male and 47% female; 51% Caucasian and 49% Latino). The results revealed that learner gender was a significant factor in the learners' evaluations of their agent (η2 = .07), the learners' task-specific attitudes (η2 = .05), and their task-specific self-efficacy (η2 = .06). In-depth interviews were then conducted with 22 students selected from the experiment participants. The interviews revealed that Latina and Caucasian females built a different type of relationship with their agent and reported more positive learning experiences as compared to Caucasian males. The females' favorable view of the agent-based learning was largely influenced by their everyday classroom experiences, implying that students' learning experience in real and virtual spaces was interconnected.
Keywords
virtual tutors,
embodied conversational agents,
pedagogical agents,
interactive learning environments,
equity in mathematics education,
human-computer interaction,
Virtual agents,
Agent design,
Virtual peers,
Equity in education,
Gender difference,
STEM education
Publication Date
November 1, 2013
Citation Information
Kim, Y., & Lim, J. (2013). Gendered socialization with an embodied agent: Creating a social and affable mathematics learning environment for middle-grade females. Journal of Educational Psychology, 105 (4), Special Issue on Advanced Learning Technology.