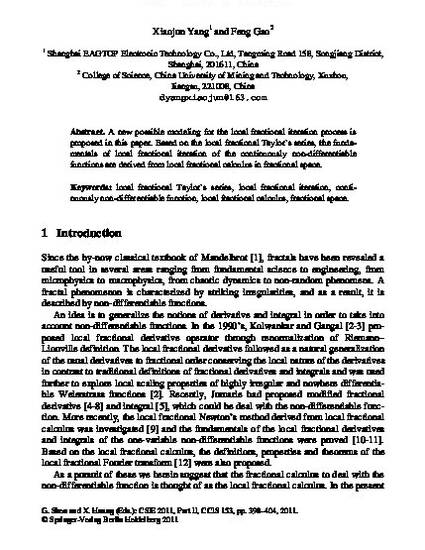 Article
Fundamentals of Local Fractional Iteration of the Continuously Nondifferentiable Functions Derived form Local Fractional Calculus
In: Proc. of the 2011 International Conference on Computer Science and Information Engineering (CSIE2011) (2011)
Abstract
A new possible modeling for the local fractional iteration process is proposed in this paper. Based on the local fractional Taylor's series, the fundamentals of local fractional iteration of the continuously non-differentiable functions are derived from local fractional calculus in fractional space.
Citation Information
X. Yang, F. Gao. "Fundamentals of Local Fractional Iteration of the Continuously Nondifferentiable Functions Derived form Local Fractional Calculus" In: Proc. of the 2011 International Conference on Computer Science and Information Engineering (CSIE2011) (2011): 398-404.