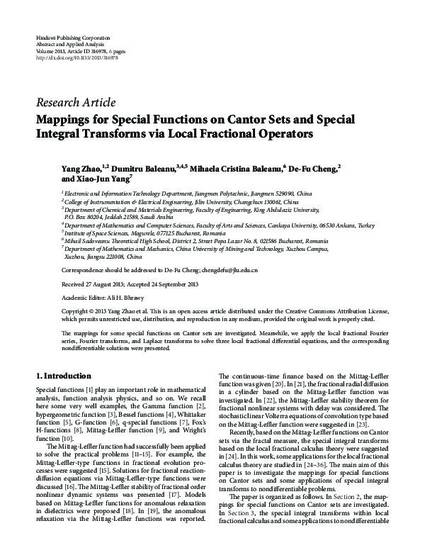 Article
Mappings for special functions on Cantor sets and special integral transforms via local fractional operators
Abstract and Applied Analysis (2013)
Abstract
The mappings for some special functions on Cantor sets are investigated. Meanwhile, we apply the local fractional Fourier series, Fourier transforms, and Laplace transforms to solve three local fractional differential equations, and the corresponding nondifferentiable solutions were presented.
Publication Date
September 24, 2013
Citation Information
[1] Y. Zhao, D. Baleanu, M. C. Baleanu, D. F. Cheng, X.-J. Yang, Mappings for special functions on Cantor sets and special integral transforms via local fractional operators, Abstract and Applied Analysis, vol.2013, Article ID 316978, 6 pages, 2013.