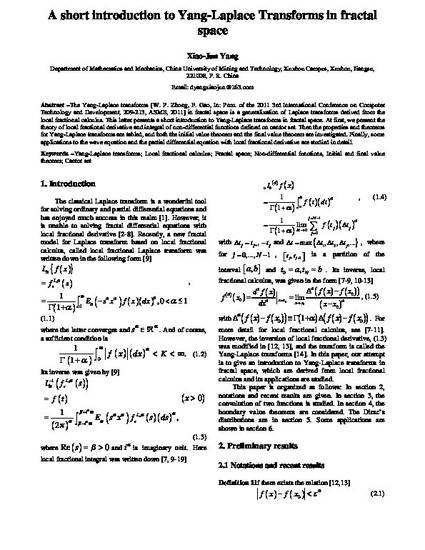 Article
A short introduction to Yang-Laplace Transforms in fractal space
Advances in Information Technology and Management (2012)
Abstract
The Yang-Laplace transforms [W. P. Zhong, F. Gao, In: Proc. of the 2011 3rd International Conference on Computer Technology and Development, 209-213, ASME, 2011] in fractal space is a generalization of Laplace transforms derived from the local fractional calculus. This letter presents a short introduction to Yang-Laplace transforms in fractal space. At first, we present the theory of local fractional derivative and integral of non-differential functions defined on cantor set. Then the properties and theorems for Yang-Laplace transforms are tabled, and both the initial value theorem and the final value theorem are investigated. Finally, some applications to the wave equation and the partial differential equation with local fractional derivative are studied in detail.
Keywords
Yang-Laplace transforms; Local fractional calculus; Fractal space; Non-differential functions,
Initial and final value theorem; Cantor set
Citation Information
Yang Xiaojun. "A short introduction to Yang-Laplace Transforms in fractal space" Advances in Information Technology and Management 1.2 (2012): 38-43.