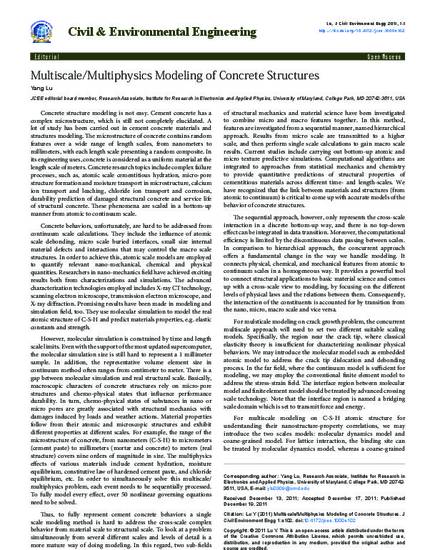 Article
Multiscale/Multiphysics Modeling of Concrete Structures
Journal of Civil & Environmental Engineering (2011)
Abstract
Concrete structure modeling is not easy. Cement concrete has a complex microstructure, which is still not completely elucidated. A lot of study has been carried out in cement concrete materials and structures modeling. The microstructure of concrete contains random features over a wide range of length scales, from nanometers to millimeters, with each length scale presenting a random composite. In its engineering uses, concrete is considered as a uniform material at the length scale of meters. Concrete research topics include complex failure processes, such as, atomic scale cementitious hydration, micro-pore structure formation and moisture transport in microstructure, calcium ion transport and leaching, chloride ion transport and corrosion, durability prediction of damaged structural concrete and service life of structural concrete. These phenomena are scaled in a bottom-up manner from atomic to continuum scale.
Publication Date
December 1, 2011
Citation Information
Yang Lu. "Multiscale/Multiphysics Modeling of Concrete Structures"
Journal of Civil & Environmental Engineering
Vol. 1 (2011)
Available at: http://works.bepress.com/yang_lu/7/