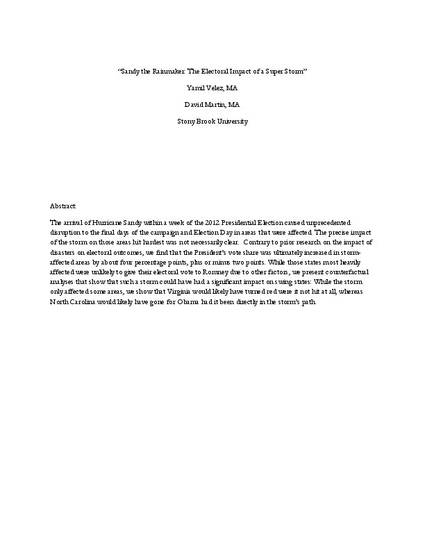 Article
Sandy the Rainmaker: The Electoral Impact of a Superstorm
PS: Political Science and Politics (2013)
Abstract
The arrival of Hurricane Sandy within a week of the 2012 presidential election caused unprecedented disruption to the final days of the campaign and Election Day in areas that were affected. The precise impact of the storm on those areas hit hardest was not necessarily clear. Contrary to prior research on the effect of disasters on electoral outcomes, we find that the president's vote share was ultimately increased in storm-affected areas by about four percentage points, plus or minus two points. While those states most heavily affected were unlikely to give their electoral vote to Romney because of other factors, we present counterfactual analyses that show that such a storm could have had a significant impact on swing states: although the storm only affected some areas, we show that Virginia would likely have been won by Romney were it not hit at all, whereas North Carolina would likely have gone for Obama had it been directly in the storm's path.
Publication Date
Winter April 1, 2013
Citation Information
Yamil R Velez and David Martin. "Sandy the Rainmaker: The Electoral Impact of a Superstorm"
PS: Political Science and Politics
Vol. 46 Iss. 2 (2013)
Available at: http://works.bepress.com/yamilrvelez/1/