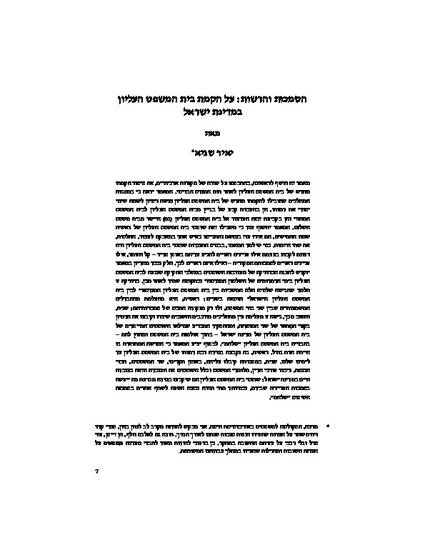 Article
Supreme Authority: On the Establishment of the Supreme Court of Israel
Mishpatim – The Hebrew University Law Review (2013)
Abstract
This article provides the first comprehensive description of the re-establishment of the Supreme Court of Israel, based on hitherto unexposed archival sources. It challenges the idea that from an institutional standpoint, the Israeli Court was merely a continuation of its Mandatory predecessor. The article reveals that despite certain similarities between the Israeli Court and its Mandatory predecessor, the institutional position of the Court had to be won out by the first Israeli Justices who launched a campaign against attempts to reallocate their jurisdiction. The bulk of the article is dedicated to detailing these attempts and the (essentially successful) campaign to preserve their judicial powers. The article also shows that the Justices' intervention in legislation concerning the Court's jurisdiction established a precedent, accepted by politicians, lawyers, judges, and academics, that the Justices have the controlling voice in determining and allocating the jurisdiction of the Court.
Citation Information
Yair Sagy. "Supreme Authority: On the Establishment of the Supreme Court of Israel"
Mishpatim – The Hebrew University Law Review
Vol. 44 (2013)
Available at: http://works.bepress.com/yair_sagy/6/