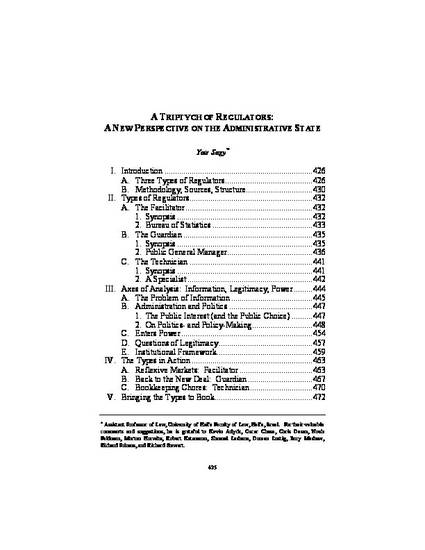 Article
A TRIPTYCH OF REGULATORS: A NEW PERSPECTIVE ON THE ADMINISTRATIVE STATE
Akron Law Review (2011)
Abstract
This Article offers a new typology of administrative regulators. Through a comprehensive study of the literature on federal regulation from the late nineteenth century until the present, it exposes, for the first time, three distinct prototypes of regulators that comprise the U.S. administrative state: "The Guardian"—the regulator as a general manager having the public interest in mind; "the Facilitator"—a coordinator of public collaboration and a source of reliable information; and "the Technician"—a skilled practitioner, qualified by certified training or experience. Each one of these types embodies a different concept of public regulation, its social role, characteristic procedures, and enforcement style. Following a systematic analysis of the three types of regulators, the Article illustrates how they are manifested in both the intellectual history and regulatory schemes of contemporary federal regulation. It also demonstrates how current, specific regulatory programs can be better understood using the typology. Finally, the Article suggests why we can expect these types to persist in future regulation.
Citation Information
Yair Sagy. "A TRIPTYCH OF REGULATORS: A NEW PERSPECTIVE ON THE ADMINISTRATIVE STATE"
Akron Law Review
Vol. 44 (2011)
Available at: http://works.bepress.com/yair_sagy/1/