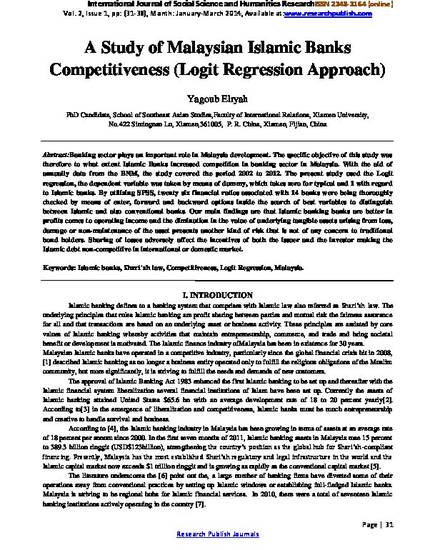 Article
A Study of Malaysian Islamic Banks Competitiveness (Logit Regression Approach)
International Journal of Social Science and Humanities Research (2014)
Abstract
Banking sector plays an important role in Malaysia development. The specific objective of this study was therefore to what extent Islamic Banks increased competition in banking sector in Malaysia. With the aid of annually data from the BNM, the study covered the period 2002 to 2012. The present study used the Logit regression, the dependent variable was taken by means of dummy, which takes zero for typical and 1 with regard to Islamic banks. By utilizing SPSS, twenty six financial ratios associated with 14 banks were being thoroughly checked by means of enter, forward and backward options inside the search of best variables to distinguish between Islamic and also conventional banks. Our main findings are that Islamic banking banks are better in profits comes to operating income and the diminution in the value of underlying tangible assets arising from loss, damage or non-maintenance of the asset presents another kind of risk that is not of any concern to traditional bond holders. Sharing of losses adversely affect the incentives of both the issuer and the investor making the Islamic debt non-competitive in international or domestic market.
Publication Date
Winter March 4, 2014
Citation Information
Yagoub Elryah. "A Study of Malaysian Islamic Banks Competitiveness (Logit Regression Approach)"
International Journal of Social Science and Humanities Research
Vol. 2 Iss. 1 (2014)
Available at: http://works.bepress.com/yagoub_elryah/35/