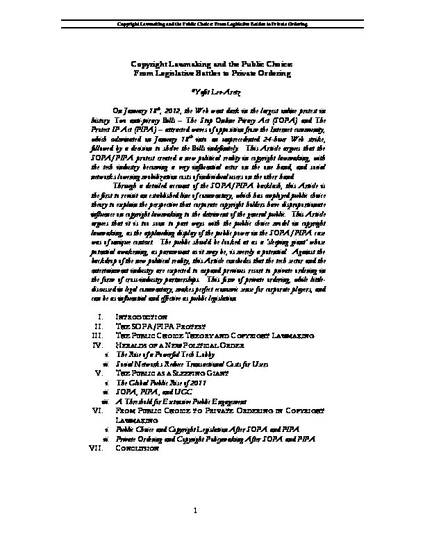 Unpublished Paper
Copyright Lawmaking and the Public Choice: From Legislative Battles to Private Ordering
ExpressO (2012)
Abstract
On January 18th, 2012, the Web went dark in the largest online protest in history. Two anti-piracy Bills – The Stop Online Piracy Act (SOPA) and The Protect IP Act (PIPA) – attracted waves of opposition from the Internet community, which culminated on January 18th into an unprecedented 24-hour Web strike, followed by a decision to shelve the Bills indefinitely. This Article argues that the SOPA/PIPA protest created a new political reality in copyright lawmaking, with the tech industry becoming a very influential actor on the one hand, and social networks lowering mobilization costs of individual users on the other hand.
Through a detailed account of the SOPA/PIPA backlash, this Article is the first to revisit an established line of commentary, which has employed public choice theory to explain the perspective that corporate copyright holders have disproportionate influence on copyright lawmaking to the detriment of the general public. This Article argues that it is too soon to part ways with the public choice model in copyright lawmaking, as the applauding display of the public power in the SOPA/PIPA case was of unique context. The public should be looked at as a 'sleeping giant' whose potential awakening, as paramount as it may be, is merely a potential. Against the backdrop of the new political reality, this Article concludes that the tech sector and the entertainment industry are expected to expand previous resort to private ordering in the form of cross-industry partnerships. This form of private ordering, while little-discussed in legal commentary, makes perfect economic sense for corporate players, and can be as influential and effective as public legislation.
Keywords
Copyright,
Legislation,
public choice theory,
social networks,
private ordering
Publication Date
August 16, 2012
Citation Information
Yafit Lev-Aretz. "Copyright Lawmaking and the Public Choice: From Legislative Battles to Private Ordering"
ExpressO
(2012)
Available at: http://works.bepress.com/yafit_lev-aretz/1/