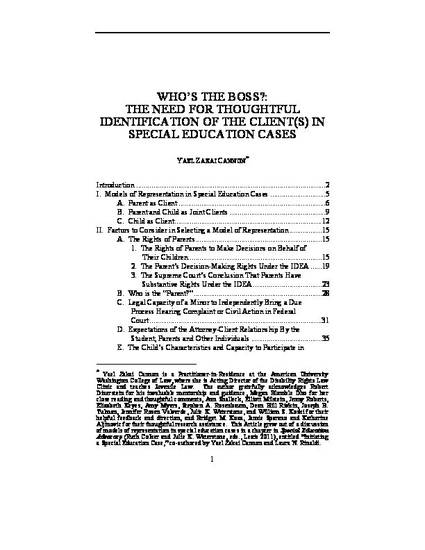 Article
Whos the Boss?: The Need for Thoughtful Identification of the Client(s) in Special Education Cases'
American University Journal of Gender, Social Policy & the Law
Publication Date
1-1-2011
Abstract
This Article explores the various models of representation used by attorneys in special education cases and advocates for thoughtful identification of the client or clients through a contextualized, individualized decision made collaboratively by the lawyer and client(s), with considerations of a panoply of factors. Part I attempts to unpack these models. While clear advantages exist with each of the models, the Article presents case examples and questions that illustrate some of the challenges that may be presented by each model. Part II includes a discussion of the factors that an attorney should consider in each case in determining the appropriate model of representation. These factors reveal the legal, ethical, and practical challenges in selecting a model of representation. The rights of parents, including their rights to make decisions on behalf of their children more generally and in relation to their childrens special education needs in particular, affect the decision to select a particular model of representation. Challenges related to identification of the 'parent' or educational decision-maker under the Individuals with Disabilities Education Act (IDEA) also play a role. Questions as to whether administrative hearing officers and courts view a minor child as having the capacity to bring an administrative due process complaint or civil action in a special education case should also factor into an attorney's assessment, as should expectations regarding the attorney-client relationship by the child, parents, and other individuals, such as school officials. Other factors such as the characteristics, capacity and age of the child, potential conflicts of interest between the parent and child, and the implications for attorney client confidentiality should be considered in selecting a model of representation for each case. Similarly, involvement by the family in child welfare proceedings or by the youth in delinquency proceedings influences the model of representation that is used. This section includes an analysis of these factors and the roles they should play in an attorney's evaluation of the appropriate model of representation in a particular case. In Part III, the Article provides several recommendations to facilitate the effective identification of the client or clients in a special education case. The Article recommends that attorneys, in partnership with their potential clients, thoughtfully identify the client or clients in a special education matter, clearly communicate the chosen model to all family members, and remain aware of any potential or existing conflicts among clients where joint representation is used. Finally, the Article emphasizes the importance of clear communication about the role of each person and ultimate loyalty to the identified client, but also advocates for the involvement and empowerment of both parent and child in the representation, wherever possible.
Citation Information
Yael Cannon. "Whos the Boss?: The Need for Thoughtful Identification of the Client(s) in Special Education Cases'"
American University Journal of Gender, Social Policy & the Law
Vol. 20 (2011) p. 1
Available at: http://works.bepress.com/yael-cannon/4/