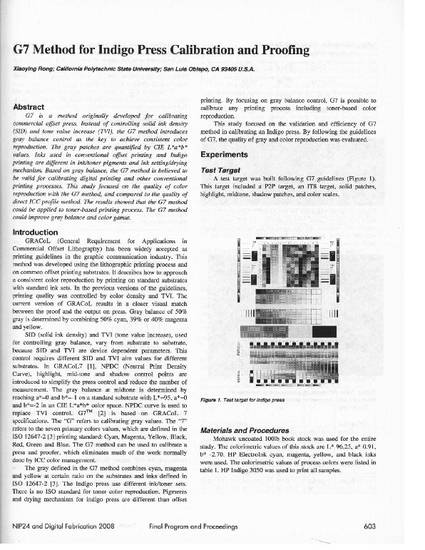 Presentation
G7 Method for Indigo Press Calibration and Proofing
24th Society for Imaging Science and Technology NIP24 International Conference on Digital Printing Technologies and Digital Fabrication: Pittsburgh, Pennsylvania
Publication Date
9-1-2008
Abstract
G7 is a method originally developed for calibrating commercial offset press. Instead of controlling solid ink density (SID) and tone value increase (TVI), the G7 method introduces gray balance control as the key to achieve consistent color reproduction. The gray patches are quantified by CIE L*a*b* values. Inks used in conventional offset printing and Indigo printing are different in ink/toner pigments and ink setting/drying mechanism. Based on gray balance, the G7 method is believed to be valid for calibrating digital printing and other conventional printing processes. This study focused on the quality of color reproduction with the G7 method, and compared to the quality of direct ICC profile method. The results showed that the G7 method could be applied to toner-based printing process. The G7 method could improve gray balance and color gamut.
Citation Information
Xiaoying Rong. "G7 Method for Indigo Press Calibration and Proofing"
24th Society for Imaging Science and Technology NIP24 International Conference on Digital Printing Technologies and Digital Fabrication: Pittsburgh, Pennsylvania
Vol. 24 (2008)
Available at: http://works.bepress.com/xrong/6/