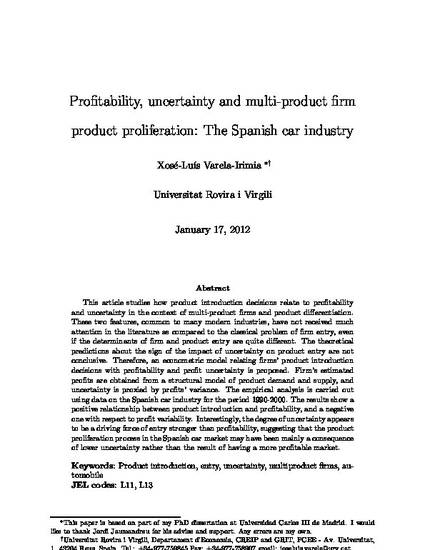 Unpublished Paper
Profitability, uncertainty and multi-product firm product proliferation: The Spanish car industry
XREAP Working Paper n. 2012-16 (2011)
Abstract
This article studies how product introduction decisions relate to profitability and uncertainty in the context of multi-product firms and product differentiation. These two features, common to many modern industries, have received little attention in the literature as compared to the classical problem of firm entry, even if the determinants of firm and product entry are quite different. The theoretical predictions about the sign of the impact of uncertainty on product entry are not conclusive. Therefore, an econometric model relating firms' product introduction decisions with profitability and profit uncertainty is proposed. Firm's estimated profits are obtained from a structural model of product demand and supply, and uncertainty is proxied by profits' variance. The empirical analysis is carried out using data on the Spanish car industry for the period 1990-2000. The results show a positive relationship between product introduction and profitability, and a negative one with respect to profit variability. Interestingly, the degree of uncertainty appears to be a driving force of entry stronger than profitability, suggesting that the product proliferation process in the Spanish car market may have been mainly a consequence of lower uncertainty rather than the result of having a more profitable market.
Keywords
Product introduction,
entry,
uncertainty,
multiproduct firms,
automobile
Publication Date
October, 2011
Citation Information
Xosé-Luís Varela-Irimia. "Profitability, uncertainty and multi-product firm product proliferation: The Spanish car industry"
XREAP Working Paper n. 2012-16
(2011)
Available at: http://works.bepress.com/xose-luis_varela-irimia/4/