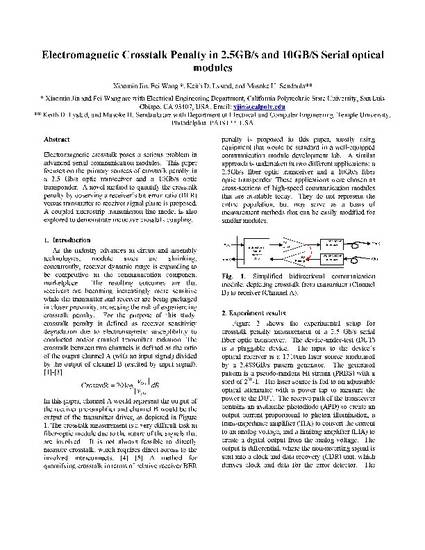 Presentation
Electromagnetic Crosstalk Penalty in 2.5GB/s and 10GB/S Serial Optical Modules
The 7th International Symposium on Antennas, Propagation, and EM Theory (ISAPE2006): Guilin, China
Publication Date
10-26-2006
Abstract
Electromagnetic crosstalk poses a serious problem in advanced serial communication modules. This paper focuses on the primary sources of crosstalk penalty in a 2.5 Gb/s optic transceiver and a 1OGb/s optic transponder. A novel method to quantify the crosstalk penalty by observing a receiver's bit-error-ratio (BER) versus transmitter to receiver signal phase is proposed. A coupled microstrip transmission line model is also explored to demonstrate inductive crosstalk coupling.
Citation Information
Xiaomin Jin, Fei Wang, Keith D. Lystad and Musoke H. Sendaula. "Electromagnetic Crosstalk Penalty in 2.5GB/s and 10GB/S Serial Optical Modules"
The 7th International Symposium on Antennas, Propagation, and EM Theory (ISAPE2006): Guilin, China
(2006)
Available at: http://works.bepress.com/xjin/6/