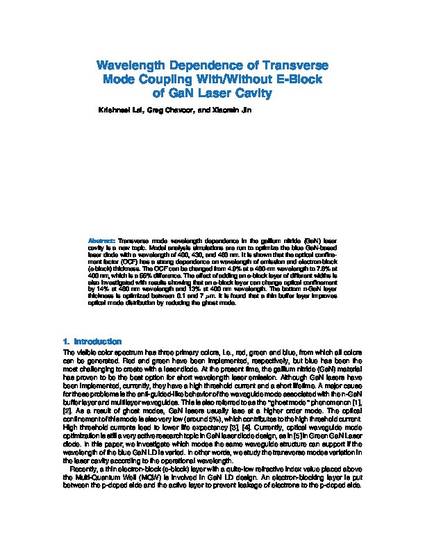 Article
Wavelength Dependence of Transverse Mode Coupling With/Without E-Block of GaN Laser Cavity
IEEE Photonics Journal
Publication Date
12-1-2011
Abstract
Transverse mode wavelength dependence in the gallium nitride (GaN) laser cavity is a new topic. Modal analysis simulations are run to optimize the blue GaN-based laser diode with a wavelength of 400, 430, and 460 nm. It is shown that the optical confinement factor (OCF) has a strong dependence on wavelength of emission and electron-block (e-block) thickness. The OCF can be changed from 4.9% at a 460-nm wavelength to 7.6% at 400 nm, which is a 55% difference. The effect of adding an e-block layer of different widths is also investigated with results showing that an e-block layer can change optical confinement by 14% at 460 nm wavelength and 13% at 400 nm wavelength. The bottom n-GaN layer thickness is optimized between 0.1 and 7 μm. It is found that a thin buffer layer improves optical mode distribution by reducing the ghost mode.
Citation Information
K. Lal, G. Chavoor and Xiaomin Jin. "Wavelength Dependence of Transverse Mode Coupling With/Without E-Block of GaN Laser Cavity"
IEEE Photonics Journal
Vol. 3 Iss. 6 (2011) p. 1206 - 1213
Available at: http://works.bepress.com/xjin/37/