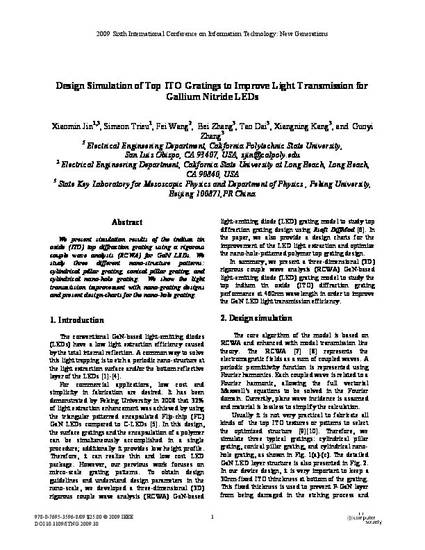 Presentation
Design Simulation of Top ITO Gratings to Improve Light Transmission for Gallium Nitride LEDs
Proceedings of the Sixth International Conference on Information Technology: New Generations
Publication Date
4-27-2009
Abstract
We present simulation results of the indium tin oxide (ITO) top diffraction grating using a rigorous couple wave analysis (RCWA) for GaN LEDs. We study three different nano-structure patterns: cylindrical pillar grating, conical pillar grating, and cylindrical nano-hole grating. We show the light transmission improvement with nano-grating designs and present design-charts for the nano-hole grating.
Citation Information
Xiaomin Jin, Simeon Trieu, Fei Wang, Bei Zhang, et al.. "Design Simulation of Top ITO Gratings to Improve Light Transmission for Gallium Nitride LEDs"
Proceedings of the Sixth International Conference on Information Technology: New Generations
(2009) p. 1 - 4
Available at: http://works.bepress.com/xjin/28/