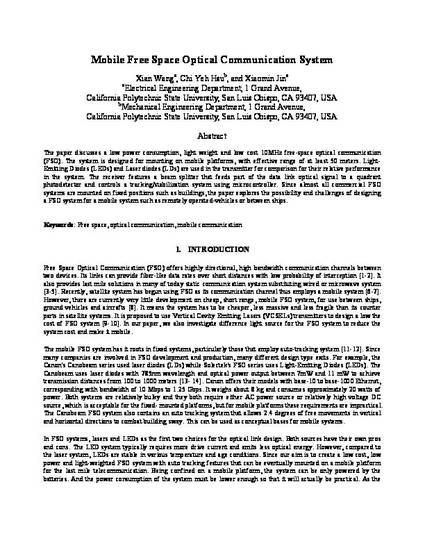 Presentation
Mobile Free Space Optical Communication System
Proceedings of SPIE Volume 6877: Free-Space Laser Communication Technologies XX
Publication Date
3-14-2008
Abstract
The paper discusses a low power consumption, light weight and low cost 10MHz free-space optical communication (FSO). The system is designed for mounting on mobile platforms, with effective range of at least 50 meters. Light-Emitting Diodes (LEDs) and Laser diodes (LDs) are used in the transmitter for comparison for their relative performance in the system. The receiver features a beam splitter that feeds part of the data link optical signal to a quadrant photodetector and controls a tracking/stabilization system using microcontroller. Since almost all commercial FSO systems are mounted on fixed positions such as buildings, the paper explores the possibility and challenges of designing a FSO system for a mobile system such as remotely operated-vehicles or between ships.
Citation Information
Xian Wang, Chi Yeh Hsu and Xiaomin Jin. "Mobile Free Space Optical Communication System"
Proceedings of SPIE Volume 6877: Free-Space Laser Communication Technologies XX
(2008)
Available at: http://works.bepress.com/xjin/25/