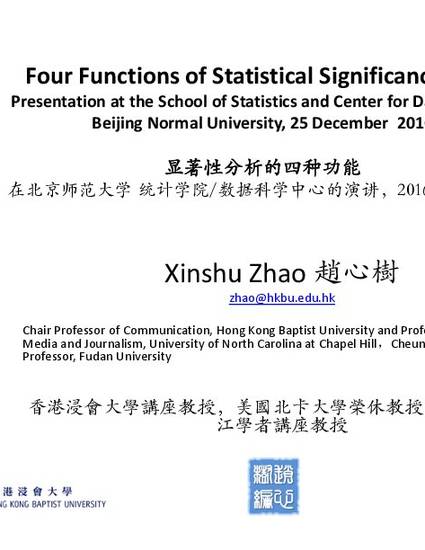 Presentation
Four Functions of Statistical Significance Tests
The School of Statistics and Center for Data Sciences, Beijing Normal University (2016)
Abstract
Statistical significance test, one of the most important contributions of mathematical statistics, was designed for projection, namely to project from a sample to its population, by estimating the probability (p) that a difference
observed in a probability sample does not exist in the population from which the sample has been drawn. In social sciences, however, researchers have used the significance tests for three other functions, namely proof, prescreen, and prototyping.
Publication Date
December 25, 2016
Citation Information
Xinshu ZHAO. "Four Functions of Statistical Significance Tests"
The School of Statistics and Center for Data Sciences, Beijing Normal University
(2016)
Available at: http://works.bepress.com/xinshu-zhao/21/