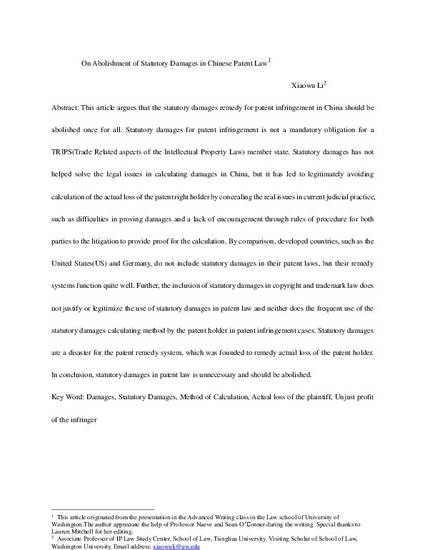 Unpublished Paper
On Abolishment of Statutory Damages in Chinese Patent Law
ExpressO (2015)
Abstract
This article argues that the statutory damages remedy for patent infringement in China should be abolished once for all. Statutory damages for patent infringement is not a mandatory obligation for a TRIPS(Trade Related aspects of the Intellectual Property Law) member state. Statutory damages has not helped solve the legal issues in calculating damages in China, but it has led to legitimately avoiding calculation of the actual loss of the patent right holder by concealing the real issues in current judicial practice, such as difficulties in proving damages and a lack of encouragement through rules of procedure for both parties to the litigation to provide proof for the calculation. By comparison, developed countries, such as the United States(US) and Germany, do not include statutory damages in their patent laws, but their remedy systems function quite well. Further, the inclusion of statutory damages in copyright and trademark law does not justify or legitimize the use of statutory damages in patent law and neither does the frequent use of the statutory damages calculating method by the patent holder in patent infringement cases. Statutory damages are a disaster for the patent remedy system, which was founded to remedy actual loss of the patent holder. In conclusion, statutory damages in patent law is unnecessary and should be abolished.
Keywords
Damages,
Statutory Damages,
Method of Calculation,
Actual loss of the plaintiff,
Unjust profit of the infringer
Publication Date
September 14, 2015
Citation Information
Xiaowu LI. "On Abolishment of Statutory Damages in Chinese Patent Law"
ExpressO
(2015)
Available at: http://works.bepress.com/xiaowu_li/1/