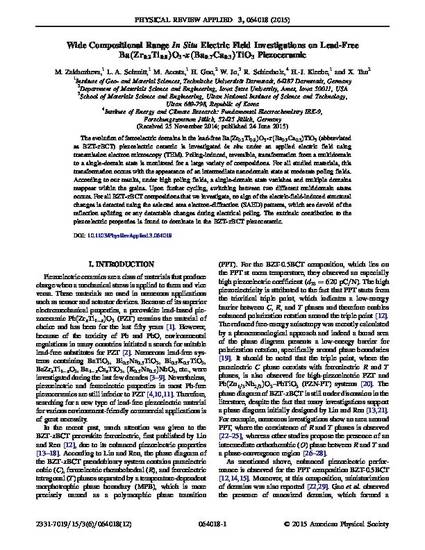 Article
Wide Compositional Range In Situ Electric Field Investigations on Lead-Free Ba(Zr0.2Ti0.8)O3−x(Ba0.7Ca0.3)TiO3 Piezoceramic
Physical Review Applied
Publication Date
1-1-2015
DOI
10.1103/PhysRevApplied.3.064018
Abstract
The evolution of ferroelectric domains in the lead-free Ba(Zr0.2Ti0.8)O3−x(Ba0.7Ca0.3)TiO3 (abbreviated as BZT−xBCT) piezoelectric ceramic is investigated in situ under an applied electric field using transmission electron microscopy (TEM). Poling-induced, reversible, transformation from a multidomain to a single-domain state is monitored for a large variety of compositions. For all studied materials, this transformation occurs with the appearance of an intermediate nanodomain state at moderate poling fields. According to our results, under high poling fields, a single-domain state vanishes and multiple domains reappear within the grains. Upon further cycling, switching between two different multidomain states occurs. For all BZT−xBCT compositions that we investigate, no sign of the electric-field-induced structural changes is detected using the selected area electron-diffraction (SAED) patterns, which are devoid of the reflection splitting or any detectable changes during electrical poling. The extrinsic contribution to the piezoelectric properties is found to dominate in the BZT−xBCT piezoceramic.
Copyright Owner
American Physical Society
File Format
application/pdf
Citation Information
M. Zakozheva, L.A. Schmitt, M. James Acosta, H. Guo, et al.. "Wide Compositional Range In Situ Electric Field Investigations on Lead-Free Ba(Zr0.2Ti0.8)O3−x(Ba0.7Ca0.3)TiO3 Piezoceramic"
Physical Review Applied
Vol. 3 Iss. 064018 (2015) p. 1 - 12
Available at: http://works.bepress.com/xiaoli_tan/74/