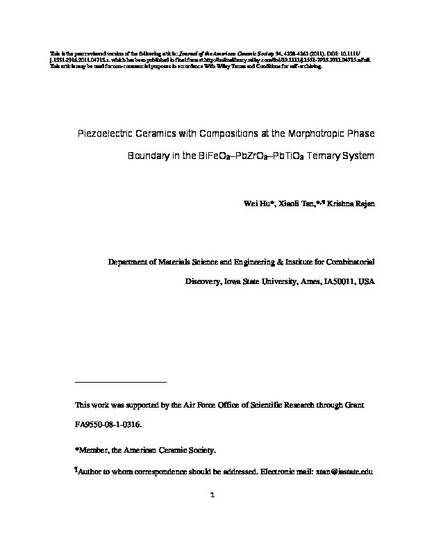 Article
Piezoelectric Ceramics with Compositions at the Morphotropic Phase Boundary in the BiFeO3–PbZrO3–PbTiO3 Ternary System
Journal of the American Ceramic Society
Publication Date
1-1-2011
DOI
10.1111/j.1551-2916.2011.04715.x
Abstract
Since ceramics in the PbZrO3–PbTiO3 binary system display excellent piezoelectric properties and those in BiFeO3–PbTiO3 exhibit high Curie temperatures, morphotropic phase boundary (MPB) compositions in the BiFeO3–PbZrO3–PbTiO3 ternary solid solution system are investigated for the development of piezoelectric ceramics for high temperature applications. It is found that the MPB compositions in the ternary system deviate away from the mixture of two binary MPB compositions 0.70BiFeO3–0.30PbTiO3 and 0.52PbZrO3–0.48PbTiO3. With decreasing amount of BiFeO3 in the MPB compositions in the ternary system, the Curie temperature TC is observed to decrease while the piezoelectric coefficient d33 is found to increase. Accompanied with this trend are the decrease in the c/a ratio of the tetragonal phase, the increase in the dielectric constant and the decrease in the loss tangent of the ceramics at room temperature. It is further noticed that the compositions in the rhombohedral-rich side of MPB exhibit slightly better piezoelectric properties. An example of such compositions is 0.511BiFeO3–0.326PbZrO3–0.163PbTiO3, with TC of 431°C, d33 of 101 pC/N, and the electromechanical coupling factor kp of 0.50.
Rights
This article may be used for non-commercial purposes in accordance With Wiley Terms and Conditions for self-archiving.
Copyright Owner
Hu, et al.
File Format
application/pdf
Citation Information
Wei Hu, Xiaoli Tan and Krishna Rajan. "Piezoelectric Ceramics with Compositions at the Morphotropic Phase Boundary in the BiFeO3–PbZrO3–PbTiO3 Ternary System"
Journal of the American Ceramic Society
Vol. 94 Iss. 12 (2011) p. 4358 - 4363
Available at: http://works.bepress.com/xiaoli_tan/58/