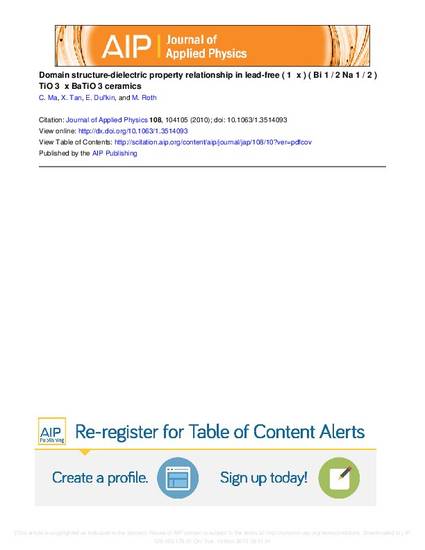 Article
Domain structure-dielectric property relationship in lead-free (1−x)(Bi1/2Na1/2)TiO3xBaTiO3 ceramics
Journal of Applied Physics
Publication Date
11-23-2010
Abstract
The domain morphology and crystal structure of (1−x)(Bi1/2Na1/2)TiO3xBaTiO3 lead-free piezoelectric ceramics were systematically studied with transmission electron microscopy for compositions x=0.04through 0.11. It was found that the ceramics with compositions x<0.06 display a R3csymmetry with ferroelectric domains of ∼100 nm forming complex structures at room temperature. Only nanodomains with faint contrast were observed in the compositions of 0.07≤x≤0.09. The presence of weak 1/2 (ooe)superlattice diffraction spots and absence of 1/2 (ooo) ones (o stands for odd and e stands for even miller indices) seem to suggest a P4bm symmetry at room temperature. The morphotropic phase boundary composition x=0.06 showed mixed R3c and P4bm phases. Large lamellar ferroelectric domains with P4mm symmetry were found to dominate in the ceramic of x=0.11. The observed domain structure correlates extremely well with the frequency dispersion of dielectric constant at room temperature and a new concept "relaxor antiferroelectric" was proposed to describe the dielectric behavior of compositions 0.07≤x≤0.09. These results are summarized in a phase diagram for unpoled ceramics in the (1−x)(Bi1/2Na1/2)TiO3xBaTiO3binary solid solution system.
Rights
Copyright 2010 American Institute of Physics. This article may be downloaded for personal use only. Any other use requires prior permission of the author and the American Institute of Physics.
Copyright Owner
American Institute of Physics
File Format
application/pdf
Citation Information
C. Ma, Xiaoli Tan, E. Dul'kin and M. Roth. "Domain structure-dielectric property relationship in lead-free (1−x)(Bi1/2Na1/2)TiO3xBaTiO3 ceramics"
Journal of Applied Physics
Vol. 108 Iss. 10 (2010) p. 104105
Available at: http://works.bepress.com/xiaoli_tan/5/