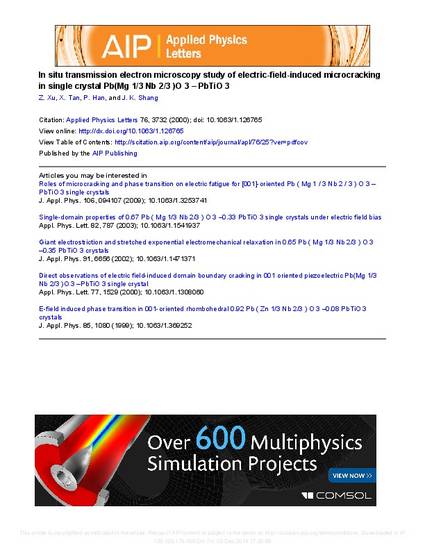 Article
In situ transmission electron microscopy study of electric-field-induced microcracking in single crystal Pb(Mg1/3Nb2/3)O3–PbTiO3
Applied Physics Letters (2000)
Abstract
In this letter, we report in situ transmission electron microscopy (TEM) study of effect of a cyclic electric field on microcracking in a single crystal piezoelectric 0.66Pb(Mg1/3Nb2/3)O3–0.34PbTiO3. A TEM heating stage was modified to permit the in situ application of an electric field on the TEM sample surface. Microcrack initiation from a fine pore under an applied cyclic electric field was directly observed in the piezoelectric single crystal. Experimental procedures for in situ TEM studies were described.
Keywords
Transmission electron microscopy,
piezoelectric fields,
single crystals,
niobium,
ozone
Citation Information
Z. Xu, Xiaoli Tan, P. Han and J.K. Shang. "In situ transmission electron microscopy study of electric-field-induced microcracking in single crystal Pb(Mg1/3Nb2/3)O3–PbTiO3"
Applied Physics Letters
Vol. 76 Iss. 25 (2000)
Available at: http://works.bepress.com/xiaoli_tan/40/