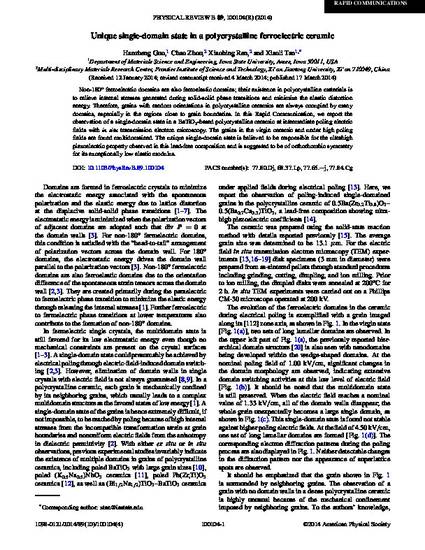 Article
Unique single-domain state in a polycrystalline ferroelectric ceramic
Physical Review B
Publication Date
1-1-2014
DOI
10.1103/PhysRevB.89.100104
Abstract
Non-180° ferroelectric domains are also ferroelastic domains; their existence in polycrystalline materials is to relieve internal stresses generated during solid-solid phase transitions and minimize the elastic distortion energy. Therefore, grains with random orientations in polycrystalline ceramics are always occupied by many domains, especially in the regions close to grain boundaries. In this Rapid Communication, we report the observation of a single-domain state in a BaTiO3-based polycrystalline ceramic at intermediate poling electric fields with in situ transmission electron microscopy. The grains in the virgin ceramic and under high poling fields are found multidomained. The unique single-domain state is believed to be responsible for the ultrahigh piezoelectric property observed in this lead-free composition and is suggested to be of orthorhombic symmetry for its exceptionally low elastic modulus.
Copyright Owner
American Physical Society
File Format
application/pdf
Citation Information
Hanzheng Guo, Chao Zhou and Xiaoli Tan. "Unique single-domain state in a polycrystalline ferroelectric ceramic"
Physical Review B
Vol. 89 (2014) p. 100104-1 - 100104-4
Available at: http://works.bepress.com/xiaoli_tan/35/