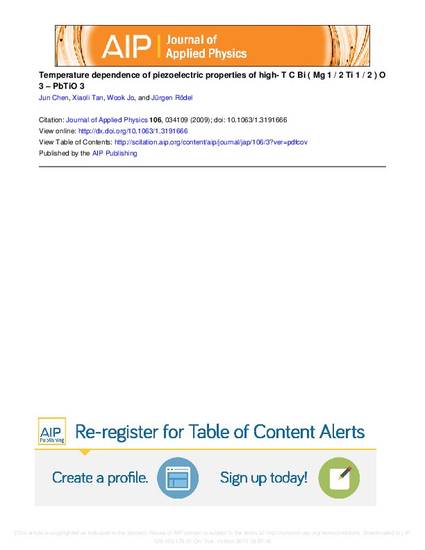 Article
Temperature dependence of piezoelectric properties of high-TC Bi(Mg1/2Ti1/2)O3–PbTiO3
Journal of Applied Physics
Publication Date
8-10-2009
Abstract
The temperature dependence of both polarization and electric-field induced strain was investigated for (1−x)Bi(Mg1/2Ti1/2)O3–xPbTiO3 (x=0.36, 0.37, and 0.38), with the morphotropic phase boundary located at x=0.37. Remanent polarization(Pr) and maximum polarization(Pmax) of all compositions are enhanced with increasing temperature up to 175 °C, which is rationalized as improved domain switching due to reduced tetragonality(c/a). The hysteresis during unipolar electric cycling tends to decrease with increase in the fraction of tetragonal phase. Temperature dependent x-ray diffraction demonstrates that switched non-180° domains are stable against thermal depoling above 200 °C, which indicates that the currently investigated materials are suitable for high temperature applications. This promising high-TCpiezoelectric is further discussed with reference to oxygen octahedron of the tilted R3c and untilted R3m space groups and the tolerance factor (t).
Copyright Owner
American Institute of Physics
File Format
application/pdf
Citation Information
Jun Chen, Xiaoli Tan, Wook Jo and Jürgen Rödel. "Temperature dependence of piezoelectric properties of high-TC Bi(Mg1/2Ti1/2)O3–PbTiO3"
Journal of Applied Physics
Vol. 106 Iss. 3 (2009) - 034109
Available at: http://works.bepress.com/xiaoli_tan/18/