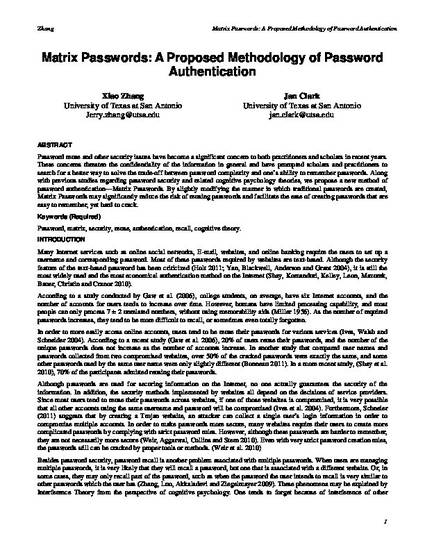 Article
Matrix Passwords: A Proposed Methodology of Password Authentication
AMCIS 2012 Proceedings
Abstract
Password reuse and other security issues have become a significant concern to both practitioners and scholars in recent years. These concerns threaten the confidentiality of the information in general and have prompted scholars and practitioners to search for a better way to solve the trade-off between password complexity and one's ability to remember passwords. Along with previous studies regarding password security and related cognitive psychology theories, we propose a new method of password authentication—Matrix Passwords. By slightly modifying the manner in which traditional passwords are created, Matrix Passwords may significantly reduce the risk of reusing passwords and facilitate the ease of creating passwords that are easy to remember, yet hard to crack.
Citation Information
Xiao Zhang and Jan Clark. "Matrix Passwords: A Proposed Methodology of Password Authentication"
Available at: http://works.bepress.com/xiao_zhang/1/