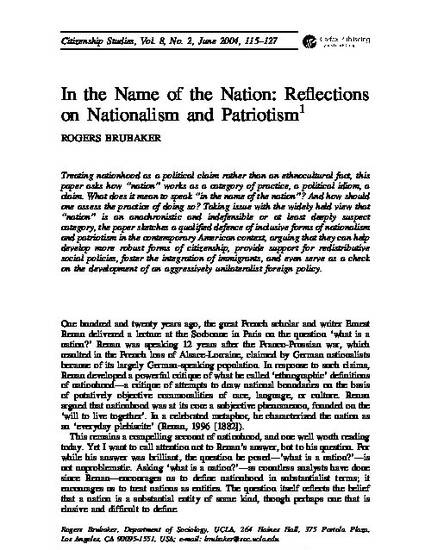 Article
In the Name of the Nation: Reflections on Nationalism and Patriotism
Citizenship Studies (2004)
Abstract
Treating nationhood as a political claim rather than an ethnocultural fact, this paper asks how "nation" works as a category of practice, a political idiom, a claim. What does it mean to speak "in the name of the nation"? And how should one assess the practice of doing so? Taking issue with the widely held view that "nation" is an anachronistic and indefensible or at least deeply suspect category, the paper sketches a qualified defence of inclusive forms of nationalism and patriotism in the contemporary American context, arguing that they can help develop more robust forms of citizenship, provide support for redistributive social policies, foster the integration of immigrants, and even serve as a check on the development of an aggressively unilateralist foreign policy.
Citation Information
Rogers Brubaker. "In the Name of the Nation: Reflections on Nationalism and Patriotism"
Citizenship Studies
Vol. 8 Iss. 2 (2004)
Available at: http://works.bepress.com/wrb/4/