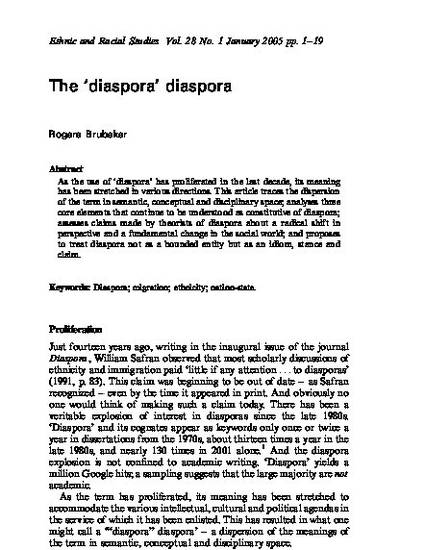 Article
The 'Diaspora' Diaspora
Ethnic and Racial Studies (2005)
Abstract
As the use of 'diaspora' has proliferated in the last decade, its meaning has been stretched in various directions. This article traces the dispersion of the term in semantic, conceptual and disciplinary space; analyses three core elements that continue to be understood as constitutive of diaspora; assesses claims made by theorists of diaspora about a radical shift in perspective and a fundamental change in the social world; and proposes to treat diaspora not as a bounded entity but as an idiom, stance andclaim.
Citation Information
Rogers Brubaker. "The 'Diaspora' Diaspora."
Ethnic and Racial Studies
28 (2005): 1-19.