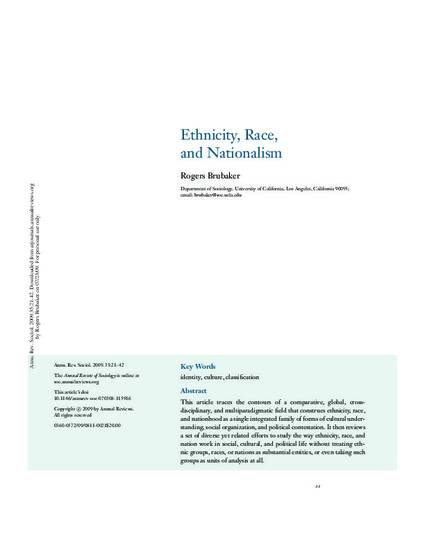 Article
Ethnicity, Race, and Nationalism
Annual Review of Sociology (2009)
Abstract
This article traces the contours of a comparative, global, crossdisciplinary, and multiparadigmatic field that construes ethnicity, race, and nationhood as a single integrated family of forms of cultural understanding, social organization, and political contestation. It then reviews a set of diverse yet related efforts to study the way ethnicity, race, and nation work in social, cultural, and political life without treating ethnic groups, races, or nations as substantial entities, or even taking such groups as units of analysis at all.
Keywords
identity,
culture,
classification,
ethnicity,
race,
nationalism
Citation Information
Rogers Brubaker. "Ethnicity, Race, and Nationalism"
Annual Review of Sociology
Vol. 35 (2009)
Available at: http://works.bepress.com/wrb/26/