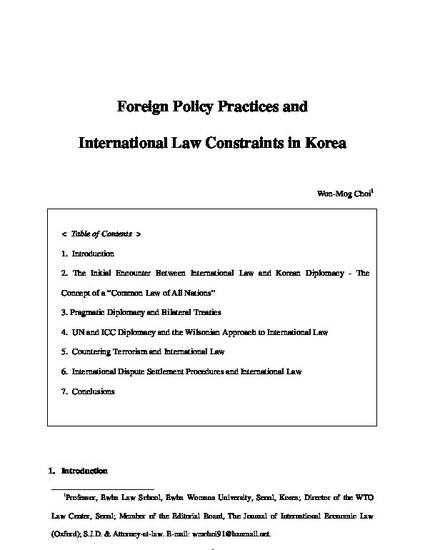 Unpublished Paper
Foreign Policy Practices and International Law Constraints in Korea
ExpressO (2010)
Abstract
Korea's bilateral foreign policy toward its neighboring states is firmly founded on the basis of the pragmatic realism. Korea has always prioritized national security and its alliance with the U.S. over any general rules of international law. By contrast, in the process of implementing Korea's multilateral foreign policy, the norms of international law have been given serious consideration as Korea's UN and ICC diplomacy and WTO dispute settlement policy demonstrates. Korea's firm belief in the collective security system has also been reflected in countering terrorism. This reflects the reality that if Korea were to depart from the path of multilateral legalism, the country would only lose an effective tool for fighting foreign rule-breakers, including North Korea. If Korea were to take this aggressive legalism approach to settle territorial disputes, it would contribute greatly to peace and legal order in Northeast Asia. In this sense, the international community has long been waiting for the institutionalization of depoliticization practices in settling territorial disputes in Asia.
Keywords
Foreign Policy of Korea,
International Law and diplomacy,
Korea's International Law concept
Publication Date
August 31, 2010
Citation Information
Won-Mog Choi. "Foreign Policy Practices and International Law Constraints in Korea"
ExpressO
(2010)
Available at: http://works.bepress.com/won_mog_choi/3/