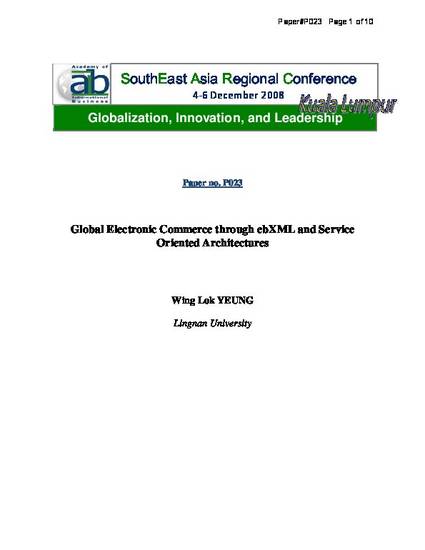 Presentation
Global Electronic Commerce through ebXML and Service Oriented Architectures
AIB South East Asia Regional Conference (2008)
Abstract
Global electronic commerce has flourished following the commercialisation of the Internet. ebXML is a global business-to-business (B2B) electronic commerce standard which addresses not only the formats and vocabularies of electronic business documents exchanged between business partners, but also the choreography of business transactions during a collaborative process. On the other hand, the service-oriented architectures (SOA) together with web services promise a new era for B2B collaboration with dynamically created business partnerships transacting based on published choreographies, for which the ebXML BPSS (Business Process Specification Scheme) is a major specification language. We illustrate the approach with a contract negotiation process.
Keywords
Collaborative processes,
Web services,
Choreography,
Orchestration
Publication Date
December 4, 2008
Citation Information
W. L. Yeung. "Global Electronic Commerce through ebXML and Service Oriented Architectures"
AIB South East Asia Regional Conference
(2008)
Available at: http://works.bepress.com/wlyeung/15/