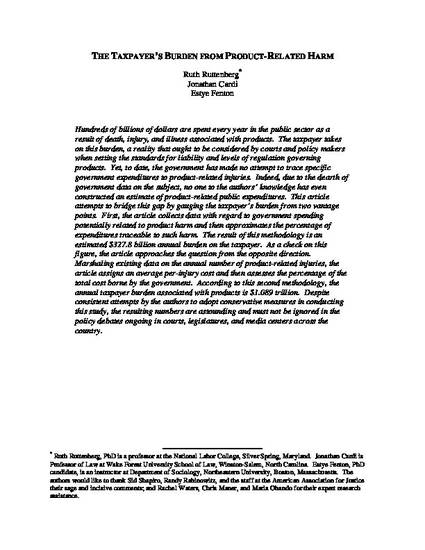 Unpublished Paper
THE TAXPAYER'S BURDEN FROM PRODUCT-RELATED HARM
ExpressO (2011)
Abstract
Hundreds of billions of dollars are spent every year in the public sector as a result of death, injury, and illness associated with products. The taxpayer takes on this burden, a reality that ought to be considered by courts and policy makers when setting the standards for liability and levels of regulation governing products. Yet, to date, the government has made no attempt to trace specific government expenditures to product-related injuries. Indeed, due to the dearth of government data on the subject, no one to the authors' knowledge has even constructed an estimate of product-related public expenditures. This article attempts to bridge this gap by gauging the taxpayer's burden from two vantage points. First, the article collects data with regard to government spending potentially related to product harm and then approximates the percentage of expenditures traceable to such harm. The result of this methodology is an estimated $327.8 billion annual burden on the taxpayer. As a check on this figure, the article approaches the question from the opposite direction. Marshaling existing data on the annual number of product-related injuries, the article assigns an average per-injury cost and then assesses the percentage of the total cost borne by the government. According to this second methodology, the annual taxpayer burden associated with products is $1.089 trillion. Despite consistent attempts by the authors to adopt conservative measures in conducting this study, the resulting numbers are astounding and must not be ignored in the policy debates ongoing in courts, legislatures, and media centers across the country.
Keywords
economics,
product liability,
policy,
regulation,
legislation
Publication Date
February 24, 2011
Citation Information
W. Jonathan Cardi, Ruth Ruttenberg and Estye Ross. "THE TAXPAYER'S BURDEN FROM PRODUCT-RELATED HARM"
ExpressO
(2011)
Available at: http://works.bepress.com/wjonathan_cardi/2/