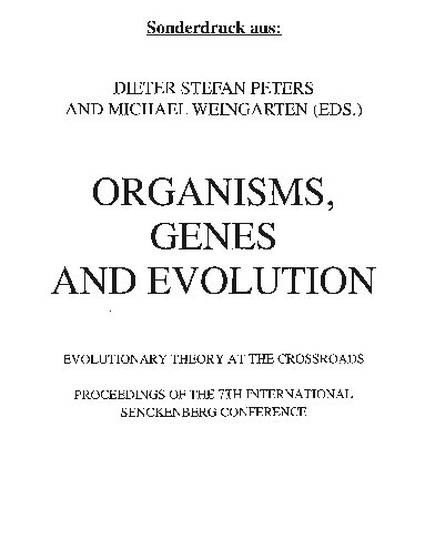 Contribution to Book
An Outline of a Theory of the Constructional Constraints Governing Early Organismic Evolution
Organisms, Genes and Evolution (2000)
Abstract
This paper has no abstract; this is the first paragraph. The origin of life is one of the most fascinating biological enigmas (Dyson 1985, de Duve 1991). A multitude of hypotheses is available, ranging from the classical "primordial broth" (Haldane 1929) to the "genetic takeover" (Cairns-Smith 1982). Most of these models center on biochemical, metabolic, or genetic aspects. To our knowledge a comprehensive investigation into the mechanical constraints governing the early development of organismic constructions is not available to date. Attempting to close this gap, we here present an outline of a theory of the transformation of constructions in early evolution.
Keywords
Early evolution,
osmoregulation,
pressure regulation,
turgor,
cell membrane,
cell wall,
membrane transport
Publication Date
July 1, 2000
Editor
D.S. Peters, M. Weingarten
Publisher
Franz Steiner Verlag
Citation Information
Winfried S. Peters and Bernd Herkner. An Outline of a Theory of the Constructional Constraints Governing Early Organismic Evolution. In Organisms, Genes and Evolution. D.S. Peters, M. Weingarten (Eds). Stuttgart: Franz Steiner Verlag, 2000; p. 169-178.