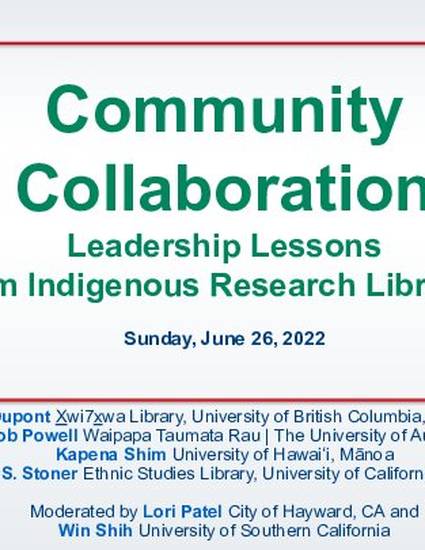 Presentation
Community collaboration: Leadership lessons from indigenous research libraries
American Library Association Annual Conference (2022)
Abstract
Librarians who manage indigenous collections are proven leaders in developing relationships with local community members. In this session, indigenous librarians in charge of collections in California, Canada, Hawaiʻi, and Aotearoa | New Zealand will share their experiences collaborating with members of indigenous groups and engaging in social action. After this opportunity, attendees will be able to describe indigenous protocols, apply strategies for building strong relationships with community leaders, and recognize collaboration as a fundamental component of leadership.
Speakers will include Sarah Dupont, Head Librarian of the Xwi7xwa Library at the University of British Columbia; Jacob Powell, a Team Leader with the Cultural Collections unit of Te Tumu Herenga | Library and Learning Services at Waipapa Taumata Rau | University of Auckland; Kapena Shim, Hawaiʻi Specialist Librarian at the University of Hawaiʻi at Mānoa; and Melissa S. Stoner, Native American Studies Librarian from the Ethnic Studies Library at the University of California, Berkeley. Due to travel complexities arising from the global pandemic, Powell will participate remotely in this event.
Dupont, who heads the only Indigenous branch library at a post-secondary institution in Canada, will discuss her experiences working with Musqueam leaders and partnering to preserve cultural heritage through the Indigitization program. Powell, who works with Māori collections and communities and is part of a very active Māori staff network, will describe driving the adoption of te ao and tikanga Māori (Māori worldview and protocols) in day-to-day institutional work processes. Shim, who serves as a liaison with the Hawaiian students, faculty, and staff on campus to support their research, teaching, and creative efforts, will talk about his student- and collection-centered approaches to strengthening the information landscape for Hawaiian Studies research. Stoner will share her experiences working to provide ethical access for culturally sensitive materials and working on the intersections of librarianship and activism.
Echoing the collaborative model, the panel will take the form of a guided conversation. Moderators Win Shih and Lori Patel from the University of Southern California will prompt panelists to share their experiences working with indigenous communities, with an emphasis on identifying best practices. Themes include access, outreach, promotion, social engagement, and strategies for attracting internal and external support.
This panel was developed from research funded by the Pacific Rim Research Libraries Alliance.
Keywords
indigenous collection,
library services
Publication Date
June 26, 2022
Citation Information
Win Shih and Lori Patel. "Community collaboration: Leadership lessons from indigenous research libraries"
American Library Association Annual Conference
(2022)
Available at: http://works.bepress.com/win_shih/45/