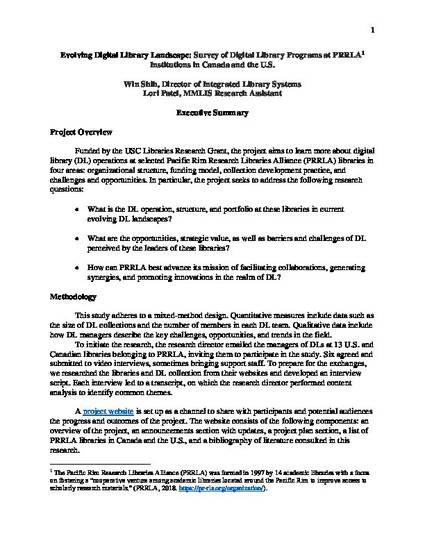 Unpublished Paper
Evolving digital library landscape: Survey of digital library programs at PRRLA institutions in Canada and the U.S.
(2021)
Abstract
Funded by the USC Libraries Research Grant, the project aims to learn more about digital library (DL) operations at selected Pacific Rim Research Libraries Alliance (PRRLA) libraries in four areas: organizational structure, funding model, collection development practice, and challenges and opportunities. In particular, the project seeks to address the following research questions:
• What is the DL operation, structure, and portfolio at these libraries in current evolving DL landscapes?
• What are the opportunities, strategic value, as well as barriers and challenges of DL perceived by the leaders of these libraries?
• How can PRRLA best advance its mission of facilitating collaborations, generating synergies, and promoting innovations in the realm of DL?
Publication Date
April, 2021
Citation Information
Win Shih and Lori Patel. "Evolving digital library landscape: Survey of digital library programs at PRRLA institutions in Canada and the U.S." (2021)
Available at: http://works.bepress.com/win_shih/43/