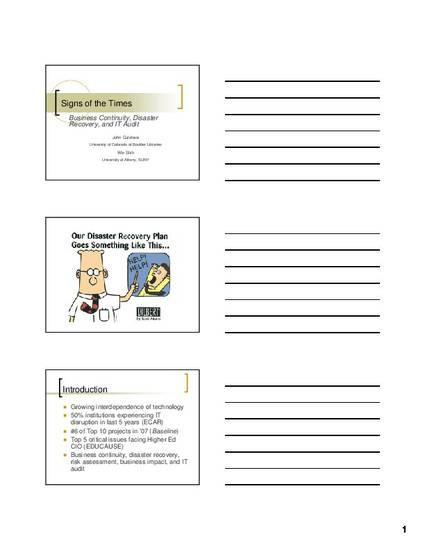 Presentation
Signs of the times: business continuity, disaster recovery, and IT audit
LITA National Forum (2007)
Abstract
The rapid evolution of Web technologies and standards has fueled the development of a raft of highly interactive and personalizable Web applications. AJAX (Asynchronous javaScript and XML)-powered and RSS-enabled Web sites, such as Google/IG, Google Map, Start.com from Microsoft, and Flickr.com from Yahoo make Web interfaces out of normally-nonweb-eanbled functionalities as running typical applications on your local PC.
Using similar technologies, we have been exploring the possibilities to a library-based portal that allows users freely configure their customized portal with contents of their choosing. Be this content e-mail, news, weather, blogging, photos, library's catalog, or any RSS feed from publishers, such as BioMed Central, Connotea, PubMed, users can easily drag and drop virtually any content or application into their "homespace." A mockup prototype is available at: http://www.beatupdesign.com/yale.html.
Library resources can become one of the many reliable feeds in a user's personal portal. Contrary to the traditional library-centric view that users have to come to library's website to discover information, the new method automatically feeds pertinent resources to them. During our presentation, we will share our experiences and discuss the pros and cons of applying these new web development techniques via the library's website.
Keywords
Disaster planning,
Disaster recovery,
IT audit
Publication Date
October, 2007
Citation Information
Win Shih and John Cashaw. "Signs of the times: business continuity, disaster recovery, and IT audit"
LITA National Forum
(2007)
Available at: http://works.bepress.com/win_shih/16/