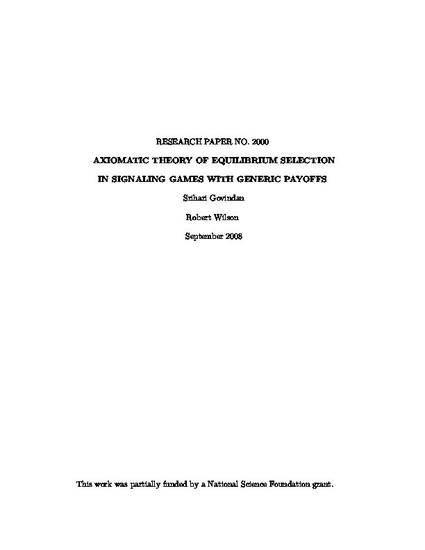 Unpublished Paper
Axiomatic Theory of Equilibrium Selection in Signaling Games with Generic Payoffs
Stanford Business School Research Paper #2000 (2008)
Abstract
Three axioms from decision theory select sets of Nash equilibria of signaling games in extensive form with generic payoffs. The axioms require undominated strategies (admissibility), inclusion of a sequential equilibrium (backward induction), and dependence only on the game's normal form even when embedded in a larger game with redundant strategies or irrelevant players (small worlds). The axioms are satisfied by a set that is stable (Mertens, 1989) and conversely the axioms imply that each selected set is stable and thus an essential component of admissible equilibria with the same outcome.
Keywords
equilibrium,
refinement,
admissibility,
backward induction,
small worlds
Publication Date
September, 2008
Citation Information
Robert B Wilson and Srihari Govindan. "Axiomatic Theory of Equilibrium Selection in Signaling Games with Generic Payoffs"
Stanford Business School Research Paper #2000
(2008)
Available at: http://works.bepress.com/wilson_robert/4/