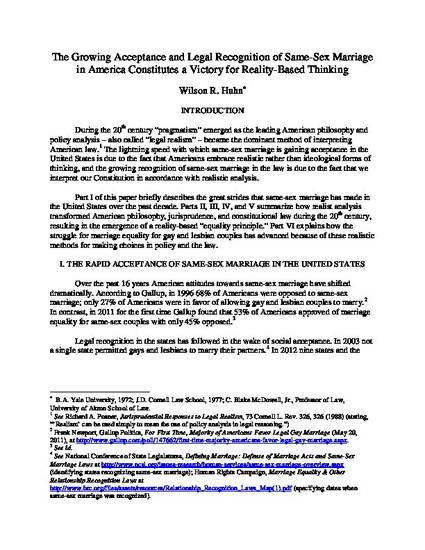 Article
The Growing Acceptance and Legal Recognition of Same-Sex Marriage in America Constitutes a Victory for Reality-Based Thinking
forthcoming (2012)
Abstract
During the 20th century "pragmatism" emerged as the leading American philosophy and policy analysis – also called "legal realism" – became the dominant method of interpreting American law. The lightning speed with which same-sex marriage is gaining acceptance in the United States is due to the fact that Americans embrace realistic rather than ideological forms of thinking, and the growing recognition of same-sex marriage in the law is due to the fact that we interpret our Constitution in accordance with realistic analysis.
Keywords
same-sex marriage,
marriage equality
Citation Information
Wilson Huhn. "The Growing Acceptance and Legal Recognition of Same-Sex Marriage in America Constitutes a Victory for Reality-Based Thinking"
forthcoming
(2012)
Available at: http://works.bepress.com/wilson_huhn/64/